Colosseum and Ancient Rome Family Tour for Kids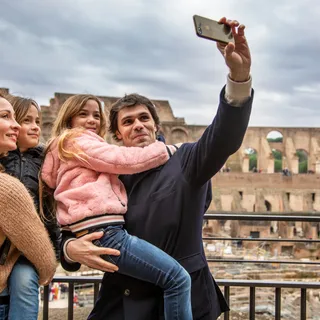 A small group tour of the Colosseum and Roman Forum, with fun games and activities to learn more about life in Ancient Rome and the Roman Empire.
Child-friendly local guide and prize for the kids.




Leonardo da Vinci Experience: guided tour for children

A wonderful experience for children dedicated to the life of Leonardo Da Vinci with this guided tour where, in addition to admiring the creations of the Italian genius come to life, children can interact with 50 replicas of Leonardo"s inventions.
Duration: 2.5 hours
Guide-escort: Italian
Info and booking


Skip-the-Ticket-Line Kids Fun Sistine Chapel & Vatican Tour

The ideal tour to explore all that the Vatican has to offer and let your children be entertained and engaged, while having fun and learning. Engage in activities that involve your whole family: solve quizzes, take part in the treasure hunt and much more. The guide can customize the tour, in order to create a unique experience for your family.
From the numerous Greek and Roman sculptures, to the Gallery of the Candelabra, the Gallery of the Tapestries, the Sobieski Room and the sumptuously decorated Raphael's Rooms to one of Italy's most popular attractions, the Sistine Chapel.
You will be enchanted by Michelangelo's works, such as the Last Judgment and other frescoes depicting biblical stories, such as the Creation of Adam. It then passes from the Sistine chapel to the most important Catholic church in the world: St. Peter's Basilica.
Info & booking



Bioparco: the Zoo of Rome
Viale del Giardino Zoologico 1, Rome
The Zoological Garden of Rome, a place that has fascinated its visitors since 1911!
A zoological biopark where a huge amount of its resources are dedicated to conservation, educational programs and animal fences, which offer an improved quality of life to a family that has 1,200 specimens of wild nature, from about 200 different species of mammals, birds, reptiles and amphibians!
Along the way you will find hippos, giraffes, tigers, bears, leopards, snakes, birds, monkeys and more, which will remind you of the incredible biodiversity that exists in the world.
Ticket booking






AT ZOOMARINE IT'S HALLOWEEN

From October 1st to November 1st, Zoomarine, Via dei Romagnoli, Pomezia
Terrifying challenges, treats and tricks, new surprises and shows and there will be demonstrations with animals, diving shows, a new Play and have fun with Pinocchio and Freeda, attractions and rides.
For info official website



A SCARY OCTOBER!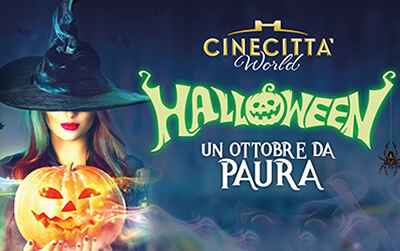 From October 1st to November 1st every Saturday and Sunday, Cinecittà World, Via di Castel Roma
The Halloween Show and the Zombie Walk will welcome guests of the Park and for lovers of the Gangs of Halloween Cinema, a live show with the most famous horror films in history. And then Inferno, the roller coaster in the dark that will lead guests in the most feared Dante's circle, Clownstrofobia, the circus where everything can happen accessible only to the bravest, for the less brave who do not want to give up an unforgettable adventure: the submarine U571 Erotika, infested with sexy vampires, is confirmed as one of the most appreciated themed attractions by the boys. For the youngest brave guests there will be Oggy Oggy to welcome children who can play Trick or Treat?. Those who want to transform themselves and become a cute monster will find their paradise at the Monstrous Face Painting, and then continue a special adventure to discover the characters of the fairy tales that live hidden in The Haunted Forest.
For program info official website



PREHISTORIC MAN, CHILDREN DISCOVERING THE LIFE OF 2 MILLION YEARS AGO

Sunday 2 October, Stadio di Domiziano – Via di Tor Sanguigna, 3
The workshop is dedicated to the discovery of the first forms of hominids: thanks to a story combined with the exhibition of numerous fossil finds, children will learn how man hunted, cooked, ate and lived 2 million and 500 thousand years ago. After the explanation they will devote themselves to the excavation of a paleontological site: an underground tank where they will have the task of bringing to light the skulls of the hominids and different objects of their daily life. All under the guidance of an experienced chief paleontologist.
Hours : 11:00 – 15:00 – 17:00
Prices : 9 € ( child ) 7 € ( accompanying person )



HUNTING FOR GHOSTS a walk from fear

Saturday 1 October, Piazza Campo de' Fiori
Did you know that Rome hides in its architecture, statues, squares, churches and streets, many stories and legends related to spirits and ghosts? Between Campo dei Fiori, Piazza Farnese, Via Giulia, Via di Monserrato and Piazza Navona it seems that illustrious personalities of past centuries – such as Giordano Bruno, Alessandro VI Borgia, Beatrice Cenci, the executioner Mastro Titta, Pimpaccia and many others – still wander without finding peace! Between stories, games, magic potions and a lot of suspense we will know what were the events and places connected to them.
Hours : 17.00
Prices : 10 €



How did the Roman aqueducts work ?

Sunday 25th September, Chiesa di San Policarpo , Piazza Aruleno Celio Sabino, 50
Did you know that in ancient Rome there were 11 aqueducts? The water was so much that the availability of water per capita was about double the current one.This abundance of water earned Rome the nickname of Regina Aquarum, or queen Thousands of public and private fountains, thermal buildings, artificial lakes, and naumachia and where the famous naval battles took place, were miraculously fed by these extraordinary arches at the top of which flowed pure and drinkable water that came from far away.
Timetable : 17:30
Prices : 1 child (4-13 years) + 1 adult: 15 €
2 children (4-13 years) + 1 adult: € 25
3 children (4-13 years) + 1 adult: € 35
Other adults: € 12 per person



Technotown, the hub of creative science in Rome

After about two years of closure, TECHNOTOWN is fully accessible to the public again and resumes its activity with a completely new project and a different target audience.
No longer a scientific playroom for children aged 8 and up, but a real creative factory for girls and boys from 12 years of age, where science, technology, ingenuity, art and mathematics are transformed into creative tools to educate achieve the impossible.
Young users, supported by the mediation of tutors, can participate in scientific courses, meetings and aperitifs. Among the first proposals, the "Electronic pills" meetings, dedicated to electronic music, "Ricicla thinks creates", for a conscious and sustainable use of the 3D printer, "Casts and resins" at Villa Torlonia and many activities related to photography as Methods of alternative photographic printing: cyanotype, Upside down: pinhole photography workshop, Darkroom: memory in the light, Old School Photography, Photographic portrait in the studio.
Another big news is the opening, inside the structure, of the first Podcast House in the world, a physical place to discover the world of digital audio content and learn how to create podcasts by telling stories, ideas and cultures.
Opening hours: Tuesday to Sunday from 9.30 to 19.00
All info and the complete calendar of initiatives is available online on the Official Site




A THRILLING EVENT

From 8 October to 1 November every Saturday and Sunday, LunEur, Via delle Tre Fontane, 100
The craziest party of the year is just around the corner and the Garden of Wonders will catapult you into a world animated by spirits, monsters and fantastic characters, which with their jokes and their marachelle will involve young and old. Come and have a feast of fun and sweetness: enter a fantastic world among pumpkins, cobwebs, magical trees and much more! Let yourself be delighted with inevitable moments dedicated to Dolcetto or Scherzetto?.
For info dates and times official website



Explora - the Children's Museum of Rome
Via Flaminia, 80/86
A few steps from Piazza del Popolo, the Explora is a permanent structure for children from 0 to 11 years old built on the model of international educational museums, where the little ones can observe, touch and discover in full autonomy through play and socializing.
In addition to offering periodic activities and special events, the museum has a bookshop, a restaurant, a cafeteria, an equipped green area and a small space designed for small children up to 3 years of age.


Opening hours
The visit to the Explora exhibition pavilion, with a limited number, is organized in shifts of 1 HOUR and 45 MINUTES to manage the flow of visitors and offer a better visit.
Shifts from Tuesday to Friday: 12.00-13.45, 15.00-16.45, 17.00-18.45
Shifts Saturday and Sunday: 10.00-11.45, 12.00-13.45, 15.00-16.45, 17.00-18.45
Closed on Mondays