How to get to the Colosseum
The Colosseum is located about 1 km south-east of the historic center of Rome and less than 2 km from Termini station where lines A and B of the Rome underground cross.
Getting to the Colosseum is therefore very simple, just take the metro line B and get off at the 'Colosseo' stop. You will find yourself right at the foot of the monument!


From Fiumicino Airport
Once landed you can take the Trenitalia train which leaves every 15 minutes to arrive at the Tiburtina station in about 40 minutes and then take the underground line B and get off, in fact, at the Colosseum stop.


From Ciampino Airport
In this case instead you can take the bus that takes you From Ciampino Airport, on the other hand, there is a bus (the 520) which takes you to the nearby Subauguta and Cinecittà stations of line A of the metro and one (720) which leads to the more distant Laurentina station of line B.







From the historic center
To get to the Colosseum from the Spanish Steps, the Pantheon or the Trevi Fountain you must necessarily walk to Via del Corso (it's a few hundred meters) and then take one of the buses that stop right in front of the Colosseum.
From Piazza Navona or Campo de' Fiori, instead, you can reach Corso Vittorio Emanuele where you can take the bus to the Colosseum on foot.
Finally, from Piazza del Popolo, the fastest way is to take underground line A at the nearby Flaminio station to Termini station and from there take line B, direction Laurentina, and get off at Colosseum.



The subway C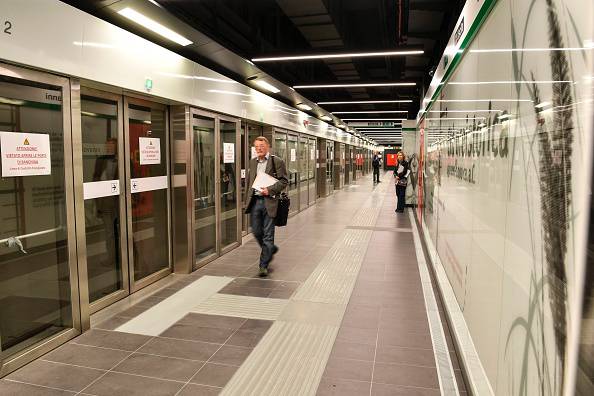 As soon as the work on the new "Fori Imperiali" stop is over, the Colosseum will also be quickly reachable via the new C line of the Rome underground, which crosses the eastern area of the city to the extreme suburbs of Montecompatri.
At the moment, the closest "useful" stop to the Colosseum is the splendid S. Giovanni museum stop, inaugurated in 2018, where all the archaeological finds found during the excavations are displayed in special glass cases. From here you can take the line A which takes you to all the most important places in Rome, from Piazza di Spagna to Termini Station (where you can take line B) or continue on foot to the Colosseum, passing by the splendid Basilica di San John.
When the new stop is ready, instead, you can go directly down via dei Fori Imperiali, a stone's throw from the Colosseum, where there are currently the various panels that tell the story of the Colosseum.