Lungo il Tevere Rome.. 2019
From 5 June, between Ponte Sisto and Ponte Sublicio
After the great success of the last editions, one of the most important of the Roman summer, from 5 June will return to brighten the evenings.
An art gallery open impreziosirà docks in the stretch from Ponte Sublicio to Ponte Sisto, presentations, exhibitions, installations, performances and literary competitions and meetings.

All this on the banks of the Tiber and completely free







Concerts of summer 2019


Also this year the Roman summer is full of high quality music. These are just some of the most beautiful concerts in Rome in the summer of 2019:

Sunday 16 June - Olympic Stadium
ED SHEERAN

Sunday and Monday 23 and 24 June - Auditorium Parco della Musica, Cavea
MANESKIN

Saturday, June 29th - Olympic Stadium
LAURA PAUSINI - BIAGIO ANTONACCI

Thursday 4th July - Olympic Stadium
LAST

Friday 12 July - Olympic Stadium
LIGABUE

Saturday, July 13th - Auditorium Parco della Musica, Cavea
BEN HARPER & THE INNOCENT CRIMINALS

Tuesday, July 16th - Auditorium Parco della Musica, Cavea
NICK MASON'S SAUCERFUL OF SECRETS

Wednesday 17 July - Capannelle Hippodrome
SUBSONICA

Saturday, July 20 - Olympic Stadium
MUSE

Saturday 27 July - Roman Theater of Ancient Ostia
LOREDANA BERTE '

Monday 29 July - Auditorium Parco della Musica, Cavea
FIORELLA MANNOIA

Thursday 1st August - Auditorium Parco della Musica, Cavea
PINK FLOYD LEGEND "ATOM HEART MOTHER TOUR"



Village Celimontana 2019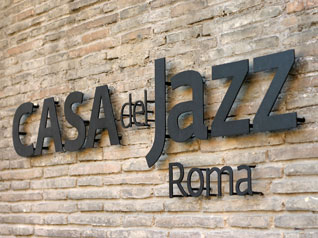 From 1 June to 8 September, Villa Celimontana, Via della Navicella, 12
After the enormous success of last season, declared the Jazz Festival with the most crowded of Europe, one of the most awaited events of the Roman summer returns with more than 100 live concerts and a high level program.
 The Festival of 2019 is characterized by the celebration of one of the most charismatic characters of world music, Nat "King" Cole who was born exactly 100 years ago in 1919. The Village Celimontana will wish in its own way: every evening the musicians will dedicate a piece to this unique musician  
 And then:
 Every Monday Tango evening with CELIMONTANGO
 Every Tuesday the SWING SWING SWING, the festival dedicated to the Swing dance, the Lindy hop, the Charleston, the Tip Tap, doe the evenings will always begin with a free lesson offered by the best schools in Rome.
 One Thursday a month BEVO SOLO ROCK'N'ROLL, the show dedicated to the Rock'n'roll of the 1950s, for those who love to dance in the style of Grease and American Graffiti
 Every Sunday in June the appointment is with ROME DOES NOT MAKE THE STUPID STASERA, an evening that includes musical and theatrical entertainment with the Trio Monti and the Fuorisync
 And then Max Paiella , David Riondino , Gigì and Al Bianchi with their The Great Show and much more.
The entire program of the review is on the Official Website
All'Ombra del Colosseo 2018
From July 10 to August 23, Viale del Monte Oppio
Back on Saturday, also this year, in the splendid setting of the Park of Colle Oppio, the Colosseum's Shadow, the historic Roman festival dedicated to comic.
Rodolfo Laganà, Dado, Cinzia Leone, Maurizio Mattioli, Francesca Reggiani and Insegno & Ciufoli are just a few of the names of this year's cast.
For the full program, tickets and other information, visit the Official Website


Summer Reading 2018
From June 21st to September 2nd, Gardens of Castel Sant'Angelo
Every day from 10:00 to 1:30 at night, a walk inside the Gardens of Castel S. Angelo with over 850 events including meetings, readings, music, games, performances and projections.
Every evening table tennis in collaboration with FITET, and Calcio Balilla, with the Italian Lega Calcio Balilla. And then, every Monday, Bridge tournaments; Thursday, Subbuteo; chess tournaments and board games like Concordia, Marco Polo, Centuria and Zagor, all by La Tana dei Goblin.
In addition, along the way the Island of Children, a free space dedicated to young visitors from 2 to 8 years, with workshops and games by professionals; the Island of Music; the Island of the Arts of Health.

Shows to Globe Theatre 2018
From 27 June to 14 October, Villa Borghese
The Silvano Toti Globe Theater, built inside the Villa Borghese gardens and that philologically reconstructs the Globe Theater of London, this year celebrates its 15th anniversary.
This is the 2018 season program:

From 27 June to 15 July: VERY NOISE FOR NOTHING
From July 20th to August 5th: OTHELLO
From August 8th to August 26th: DREAM OF A MIDSUMMER NIGHT
From 31st August to 16th September: THE DOMED BISBETICS
From September 21st to October 7th: THE TEMPEST
From October 10th to October 14th: THE MERCHANT OF VENICE


For the show program, ticket information and more on the official website of the theater