The Rome Feast 2019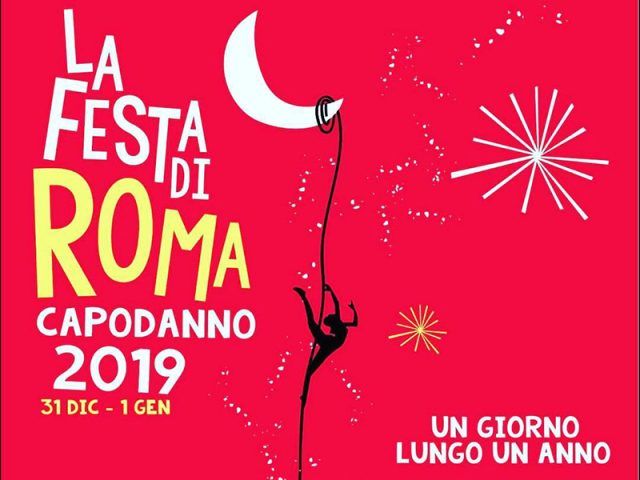 From 21.00 on 31 December to 21.00 on 1 January 2019, Rome
For a whole day the heart of Rome will turn into a dream landscape with a program of shows,   performances, installations, music, projections and much more inspired by the Moon!  
24 hours of events and more than 100 performances with an international cast of about 1000 artists from 46 countries in a pedestrianized area of 70,000 square meters between Piazza dell"Emporio, Giardino degli Aranci, Circus Maximus, via Petroselli, Lungotevere Aventino, Lungotevere dei Pierleoni and Isola Tiberina.
A cosmic festival, in the true sense of the word, which brings Rome not only to the center of the world, but directly to the Moon !!








Christmas concerts in Rome
December 21-28, Churches of Rome
Classical music concerts and operas for every taste:
Friday 21st and 28th December, 5.30pm, Capuchin Crypt
Baroque Christmas Concert
A wonderful performance with the music of Palestrina, Agazzari, Pitoni, Morales and many others inside the wonderful Capuchin Crypt.
Included in the price a guided tour of the crypt in English
Ticket price: 33.00 €


Saturday 22nd, 7.30pm and Wednesday 26th, 4.30pm and 7.30pm, Ponte Sant"Angelo"s Methodist Church
Christmas Concert Opera and Aperitif: Opera Classics and Unforgettable Romantic Piano
Internationally acclaimed musicians perform opera favorites like "La donna è mobile" from Verdi"s Rigoletto and "Vissi d"arte" from Puccini"s Tosca. Also on the program are beloved Neapolitan songs and piano classics like Chopin"s "Heroic" Polonaise.
After the concert, you have the opportunity to come together with the artists and enjoy some light snacks and sparkling wine.
Ticket price: 23.00 €


Tuesday 25 December, 7.30 pm, Leonardo Da Vinci Experience Museum
A Christmas concert in Rome
An evening of Christmas carols masterfully performed by a string quintet and a Soprano, conducted by Maestro Maurizio Morgantini.
The museum tour is included in the price at 18.00
Concert duration: 60 minutes
Ticket price: 39.00 €








The historic market of Piazza Navona
From December 8th to January 6th 2019, Piazza Navona
It is the most important Christmas market in Rome which, from the first days of December until 6 January, concentrates in the splendid setting of Piazza Navona street artists, acrobats, jugglers, artisans and traders.
In these days traditional elements are mixed with the most modern ones and next to the stalls selling gastronomic specialties, Christmas decorations and various gift ideas, we find music, rides and colored lights, as well as various representations of the Befana which is the undisputed star of this market.
An event not to be missed for those who love the tradition and the magic of Christmas.


In this year's edition there will be three stands of Amatrice , the municipality hit by the terrible earthquake of 2016.
"It is an important opportunity to talk about this territory and to support its craft activities, history and traditions", said the mayor Filippo Palombini.



Christmas markets in Rome

At the moment we mention these Christmas markets:
From Saturday 1 December to 6 January 2019, at the Parco della Musica
Enchanted Winter
Around a giant Ice Park, and a huge Christmas tree, a Christmas Village built as never before seen in Rome.
Every day from 10.00 to 20.00, 20 stands set up in an elegant and uniform manner with artisans and typical products, and then animation for children, illuminations, Christmas music in piped music.

From Saturday 1 December to 6 January 2019, to the City of the Other Economy
Christmas in Testaccio
Every day starting from 9.00, 80 banquets, ice rink and performances for children, artisans market, Christmas specialties and many shows

1 and 2 December, via delle Casalanziane, 12
Bethany Christmas Market
The event for those who want to make their Christmas gifts in a conscious and informed, for those looking for unique products, handmade with care and precision and for those who believe in the importance of solidarity and justly paid work.
You will find Christmas decorations, decorations, Christmas tailoring, packaged baskets, fair trade food products and much more.

from December 8th to January 6th 2019, at the Jonio Park
ExpoNoi"s Christmas Space
Organized by the Environmental Safety and Civil Protection Unit - NSA, it provides a space dedicated to Crafts, Arts and Crafts, typical products, entertainment, children, tastings and music.
And every night Vin Brulè and Caldarroste at the Kiosk GLA.

until January 15, 2019, at the Garden Center Solara
Christmas Village
The Magic of Christmas, colored lights and sweet fragrances with the aim of recreating the beauty and colors of the famous Christmas Markets of Northern Europe in this village in green of Casal Palocco, now in its 16th edition.
There will also be a fantastic "village in the Village", a miniature version of a Christmas landscape all in motion and for the little ones will come even Santa Claus

November 24 to December 23, Piazza G. Primoli
Christmas Talents
A covered space of over 1000 square meters with about 50 exhibitors including designers, artisans, decorations where you will find music and scents of Christmas, as well as many curious ideas and original gifts

Until to 23 December, via IV November 157 / B
Christmas for Emergency
A welcoming place where you will find anything you want: gadgets, ethnic crafts, food products, handmade, costume jewelry and much more.
All the funds raised will go to support the EMERGENCY hospitals in Iraq and Afghanistan.


100 CRIBS IN THE VATICAN
From 7 December to 13 January 2019, Sala San Pio X, Via della Conciliazione, 7
The traditional International Exposition of 100 Cribs, now in its XLIII edition, has moved from Piazza del Popolo to the Vatican this year. Via della Conciliazione. A handover by Mrs. Mariacarla Menaglia, director of the "Rivista delle Nazioni", organization that organized the event for 42 years.
100 Cribs is a review of nativity art started in 1976 to reaffirm a typically Italian tradition that in those years risked be supplanted by the fashion of the Christmas tree unrelated to our culture.
An international event with about 200 new cribs each year, of which more than 50 from the five continents.
Hours: free entry, every day, from 10:00 to 20:00


CHRISTMAS IN ZOOMARINE
From December 1 to January 6, Zoomarine, Via dei Romagnoli, 00071 Torvaianica (RM)
A unique experience for the whole family to spend together and in harmony the days of Christmas holidays in a fairytale atmosphere. Get to know Santa Claus live, where every child can explore the magical rooms and take a beautiful photo memory in the sunbeds of the Elves, wearing their hats and cloaks! In addition, all children can write and send their own letter of desires in person at the Santa Claus Post Office. hours 10:00 to 15:00 Prices: 6 €