Feast of the Epiphany in Piazza Navona
From 16 December 2017 to 6 January 2018, Piazza Navona
This year there is also a market at Piazza Navona.
Compared to the previous edition, this year the market will consist of 48 workstations, of which 28 are business activities and 20 crafts.
12 spaces, instead, are designed for cultural animation programs, socio-educational activities and solidarity, and promotional initiatives of technology applied to crafts for children, teenagers and families. From creative laboratories to the creation of innovative objects and equipment, the themes of the proposed projects will be Christmas and Epiphany.
As for the artistic proposals, this year's call contemplates an entertainment area for musical, theatrical, and concert performances.








Christmas markets in Rome

Pending Market Updates at Piazza di Spagna, in Piazza San Pietro and others we point out the market:
from 1 to 24 December, via IV November 157/B
Christmas for Emergency
A welcoming place where you will find anything you want: gadgets, ethnic crafts, food products, handmade, costume jewelry and much more.
All the funds raised will go to support the EMERGENCY hospitals in Iraq and Afghanistan.


from 8 to 24 December, Piazza di Cinecittà, 11
Christmas Market Show
Forty exhibitors with their craft creations, interactive workshops and demonstrations and the traditional "free raffle", where you can collect tickets by making purchases in the market.


from 8 December to 7 January 2018, at the Ionian Park
Spazio al Natale of ExpoNoi
Organized by the NSA, the NSA provides a space dedicated to Crafts, Arts and Crafts, typical products, entertainment, children, tastings and music.
And All Night Vin Brulè and Caldarroste at the GLA Chiosco


from 8 to 10 December and then from December 15 to January 7, 2018
Christmas Market at the Auditorium Park of Music
A metropolitan village outside the auditorium with Christmas decorations, luminaries, crafts, games and skating rink


until January 14, 2018
Santa Claus Village in via Appia Antica, 18
At the Headquarters of the Gruppo Storico Romano there are many activities, workshops and fun attractions with different environments: The House of Music, Puppet House, House of Drawings, Fairytale House and much more







100 Nativity scenes at People's Square
From November 23 to January 7, 2018, Sale del Bramante
100 Nativity returns this year in the picturesque Sale del Bramante, a time study of the illustrious Renaissance architect, leaning against the Aurelian walls, adjacent to the Basilica of Santa Maria del Popolo.

100 Nativity crib is an art exhibition that began in 1976 to reaffirm a typically Italian tradition, which in those years was likely to be supplanted by fashion Christmas Tree foreign to our culture.
An event internazionel with about 200 new cribs each year, including more than 50 from all five continents.


Open every day, including Christmas Day, St. Stephen, New Year and Epiphany from 9:30 to 20:00
Price: full price 7:50 €, 6:50 € for those over 65, 5:50 € for children 4-10 years


Festa di Roma
From 21.00 of 31th december to 21.00 of 1st gennaio 2018, Rome
A party with 1000 artists, over one hundred performances on over 150 thousand square meters.
We start at CIRCO MASSIMO, at 9.30 pm on December 31st with FURA DELS BAUS, to wait for a midnight illuminated by the pyrotechnic games on the Palatine that a few minutes later will light up its new lighting giving us back the pleasure of admiring its beauty even at night. At 3:00 on January 1st, we move to the India Theater, the Science Bridge and the Royal Cinema with DJ sets, performances and films to finish with the notes of Danilo Rea who greet "the dawn" of 2018.
From 15:00, then, a gigantic stage lights up, from Lungotevere De 'Cenci to Piazza dell'Emporio including Via Petroselli and the Bocca della Verità, dressed in lights and set design of the Opera di Roma, with circus art dance, acrobatics aerial, street theater, truck work, jazz, pop, folk, classical, collective dance, videomapping, light installations, fragments of cinema on water screens on the Tiber Island, and much more.

We Run Rome 2017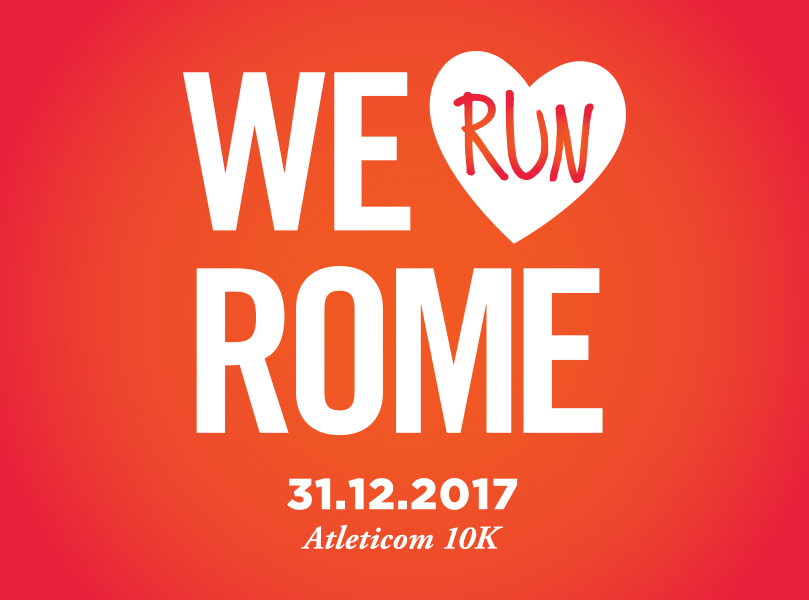 31th December 2017, Rome
The ASD Atleticom organizes for Sunday 31 December the WE RUN ROME New Year's marathon this year at the 7th edition.
The meeting point is set for Sunday, December 31 at 12:00 am at the Stadio delle Terme di Caracalla "Nando Martellini" in Rome.
The start of the 10 km competitive and non-competitive test will be given at Via delle Terme di Caracalla at 14:00.
The non-competitive test of 5 km will start at 2.15 pm.

Entries can be made online until December 30th online at www.werunrome.com (Until all available seats are available)