The Colosseum for free at Easter
Sunday 1 April 2018, Colosseum
This year Easter Sunday coincides with the first Sunday of April and therefore, for the initiative #domenicaalmuseo, the Colosseum, Roman Forum and Palatine Hill and other museums and archaeological sites in Rome will be free admission.
For the residents of Rome, the Civic Museums will also be free.







Celebrations for the MMDCCLXXI Birth of Rome
From Friday 20 to Sunday 22 April, Circo Massimo
The celebrations for the MMDCCLXXI Natale di Roma begin on Friday, April 20th, with the opening, at 9.00 am in the Circus Massimo exhibition area, of the photographic exhibition with images of the past editions of the "Christmas of Rome and the Didactic Benches dedicated above all to children .
On Saturday 21st, at 3 pm, the historical reenactments, the ceremonies and the equestrian shows will start from 6.00pm to 8.30pm and there will be a concert of jazz music and Roman songs.
Lastly, on Sunday, the traditional Roman Historical Group march, which will start at 11.15 am from the Circus Maximus and will cross all the Via dei Fori Imperiali. There will be about 1,000 historical reenactors of ancient Rome, belonging to 38 different associations from all over Italy, as well as from 7 European countries as well as from New Zealand.
To lead the procession will be the "Rome Goddess" 2018, which will be proclaimed in Piazza del Campidoglio, on April 20 from 16.00 to 17.00

Moreover, throughout the day of Saturday, April 21st, the following Rome Civic Museums will be admitted free of charge:
- Capitoline Museums
- Centrale Montemartini
- Mercati di Traiano Museum of the Imperial Forums
- Ara Pacis Museum
- Museum of Ancient Sculpture Giovanni Barracco
- Museum of the Walls
- Museum of Casal de 'Pazzi
- Villa di Massenzio
- Museum of the Roman Republic and of the Garibaldian memory
- Museum of Rome Palazzo Braschi
- Napoleonic Museum
- Alberto Moravia House Museum
- Gallery of Modern Art
- MACRO
- MACRO Testaccio
- Museo Carlo Bilotti
- Pietro Canonica Museum
- Museum of Rome in Trastevere
- Museums of Villa Torlonia
- Civic Museum of Zoology


Journeys through Ancient Rome
From 21 april to 11 November 2018, via Alessandrina
After the great success of previous years, the Imperial Rome back to life also this year with the virtual journey of the holes: the Forum of Caesar and Forum of Augustus .
From 21 April to 11 November will be 'possible to both shows designed by Piero Angela, who with digital reconstructions and the accompaniment of his voice will revive the most' important sites of ancient Rome.
Hours:
Forum of Augustus: every night at 20:20, 21:20 and 22:20
Forum of Caesar: every night at 20:20 and 22:40
Price: Full 16 € , reduced 11 €,
Combined (+ Forum of Caesar Forum of Augustus): Full 31 €, reduced 19 €
Info & booking

E-Prix Rome 2018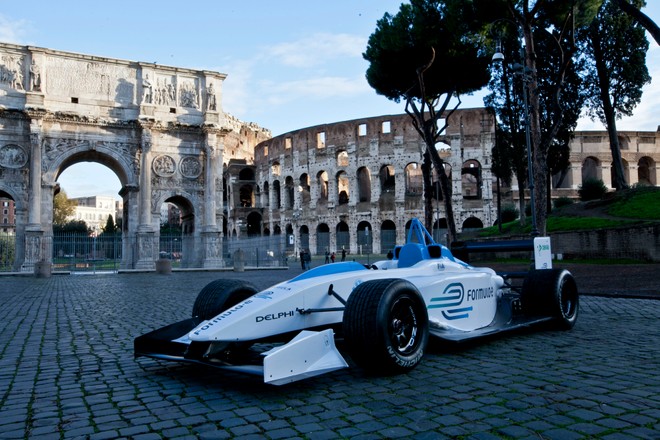 14 april 2018, EUR
This spring will bring for the first time in Italy, the first edition of the E-Prix Roma 2018, the Grand Prix for the electric cars of Formula E.
With a track of 2.7km, the circuit is one of the longest of the season,   it winds through the streets and the buildings of the Eur with expected departure at the height of the Modern Art building

Provisional schedule: Gate opening: 7:30 - Free practice: 8:00 and 10:30 - Qualifications: 12:00 - Race: 16:00
Tickets for the first sales phase for the E-Prix in Rome are sold out, but you are working hard to meet your requests
Official Site

Openings Ninfa's Gardens
From 31 March, Via Provinciale Ninfina, 68, Cisterna di Latina
On april open again to the public the gardens of Ninfa.
The Garden of Ninfa is a beautiful garden built in the twenties of the twentieth century on the ruins of the city medieval Ninfa by the Caetani family . And ' open to the public only a few days of the year in order to preserve its delicate environmental balance.
Admission is governed exclusively by guided tours , no reservation , departing every ten minutes. The tour takes about an hour and at its end is not can stay in the Garden , but it is You can visit the hortus conclusus an Italian-style garden dating back to the seventeenth century , the plant regularly, characterized by citrus trees and ponds with swans.
The Garden is easily walkable from prams and wheelchairs.
Ticket Office Hours : 9:00 to 12:00 and 14:30 to 18:00
Once you buy the ticket , entrance and guided tour is guaranteed even after hours of ticket office above. The tours depart every ten minutes.
Ticket Price , including driving, € 15,00 . Free for children under the age of 11 , accompanied by a parent .
Opening days and all information can be found on Visit Ninfa