Antico Caffe Greco
Via Condotti, 86 - Tel. +39066791700
The Greek and Caffe 'the most' old coffee in Rome, in Italy, only the Florian in Venice is oldest.
The restaurant's name comes from the fact that Nicola Maddalena, the coffee which he founded in 1760, was greek.
The cafeteria is also famous for the important people who have attended over the years as Massimo D'Azeglio,   Buffal Bill, Giacomo Casanova, Stendhal, that passage 'the threshold from the Caffe' Greek in order to seek his double.
Website: http://www.caffegreco.it
Tazza d'Oro La casa del caffe
Via degli Orfani, 84 (Pantheon) - Tel. +39066798131
It is a historical place, and it's attended without distinction to all sections of society, by politicians as the most important actor of success, the simple craftsman, the woman manager at home; dall'ecclesiastico students, approaching the counter is hear speeches in all languages ??at the same time is easy to meet some friends. Try the well known iced coffee 'with cream.
Website: http://www.tazzadorocoffeeshop.com
Sant'Eustachio Il Caffè
Piazza Sant'Eustachio, 82 - Tel. +390668802048
One of the Cafe most good of Rome and known all over the world, Caffe' Sant'Eustacchio is an ancient wood roasting born in the Thirties (1938), which is located in the heart of of Rome, a stone's throw from Piazza Navona and the Pantheon. Must try the delicious Grancaffe'
Website: http://www.santeustachioilcaffe.it
Freni e frizioni
Via del politeama, 4-6 (Trastevere) - Tel. +3906583341210
A meeting, exchange and encounter in the heart of Trastevere, a few steps from Ponte Sisto and Piazza Trilussa. A large table around which the social well-known drink, furniture in the name of recycling and informal atmosphere: these the hallmarks of brakes and clutches. In this former workshop where stands the old sign as a mechanic at any time of the day you can 'laze on one of the vintage sofas to drink a cup of coffee, a tea or moijto.
Dar Poeta
Vicolo del Bologna, 45 (Trastevere) - Tel. +39065880516
A "hole" in the heart of Trastevere in honor of the poet Giuseppe Gioacchino Belli, where pizza and 'really good and there is heavy because' is to rise for a long time,   prices are cheap and the owners are always friendly and helpful. E 'to prove, without doubt, the calzone stuffed with mascarpone   or ricotta and Nutella. There are good homemade desserts.
Website: http://darpoeta.com/
Formula 1
Via degli Equi, 13 (San Lorenzo) - Tel. +39064453866
One of the most historical and pizzerias frequented San Lorenzo, especially by young people and students.   Roman pizza tastes usual low cost, bruschetta, cod fillets, 'suppli' and croquettes, which can also be ordered with particular variants   and personal.
Acqua e farina
Piazza Giustiniani, 2 (Testaccio) - Tel. +39065741382
It is a pizzeria Alternatively, characterized by unusual and very tasty recipes, based on the basic ingredients of the highest quality. The pizzas are very light and easy to digest, and the service quite fast and always efficient. From experience, no doubt, the plant palette.
Giolitti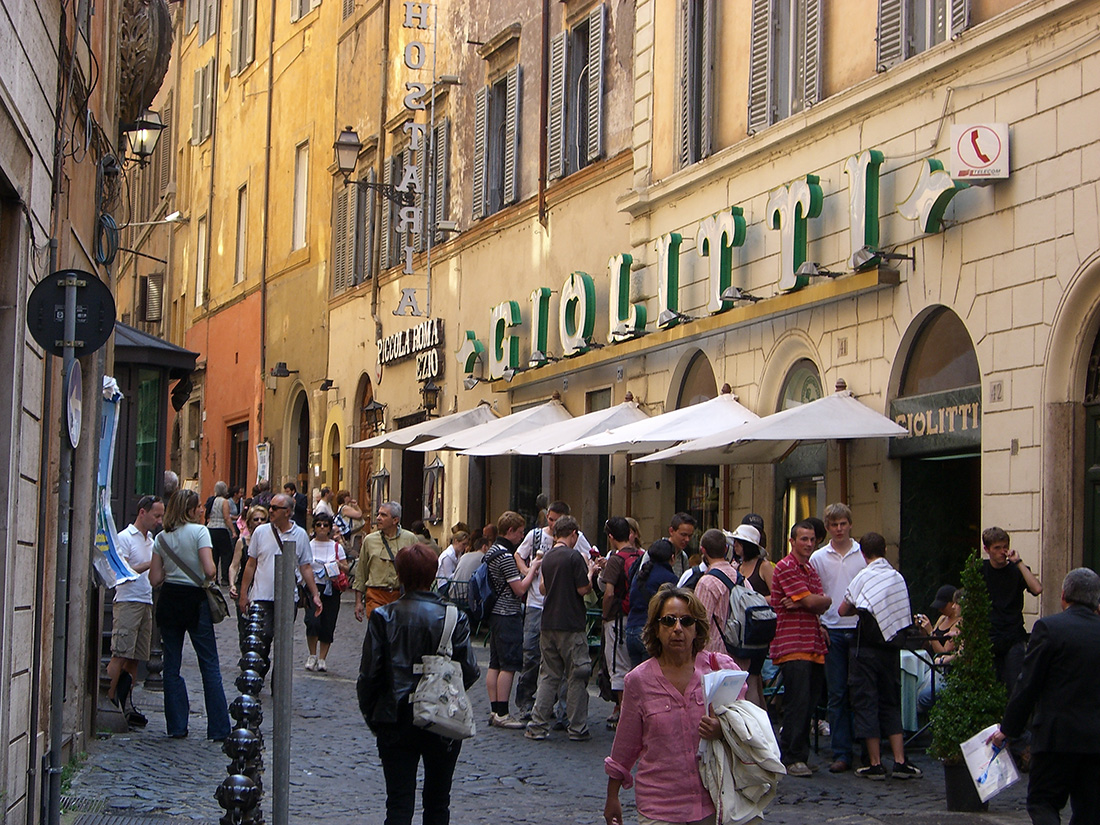 Via degli Uffici del Vicario, 40 Tel. +39066991243
The most famous ice cream parlor in the historic center of Rome, a few steps from Parliament. Great pastries and, above all, the ice cream with a wide range of tastes.
Website: http://www.giolitti.it/
Palazzo del freddo Fassi
Via Principe Eugenio, 67 Tel. +39064464740
Since 1880 the palace of the cold, also known as the Fassi, the huge ice cream a few steps from Piazza Vittorio and is one of the most famous in Rome. Very nice interior environment, with the old ice-cream machines and benches to sit on.
Website: http://www.palazzodelfreddo.it/
Ai Marmi
Viale Trastevere, 53 Tel. +39.06.5800919
This pizzeria is also jokingly called "the morgue" because of his old white marble tables that resemble salt mortuary. It seems that this nickname was given by Pasolini.
Everything here is as it once was, just think that oven, refrigerators and furniture are the same since 1942.
Navona notte
Via del Teatro Pace 44 - Tel. 066869278
Great little restaurant near Piazza Navona, in a rustic no element gorgeous.
The service is fast and effective while the pizzas are very tasty. Try the fabulous coupled: pizza or spaghetti, mussels and focaccia
Fluid
Via del Governo Vecchio, 46/47 (Campo de' fiori) - Tel. +39066832361
A few steps from Campo dei Fiori you can immerse yourself in a sensory experience for a drink with good music of DJ sets. Each drink and is prepared according to tradition, with some goodies such as Spritz aperitif of Venice.
Casetta de' trastevere
Piazza De' Renzi, 31a/32 - Tel. 39065800158
Typical local Roma in Trastevere, with its roofs, the balconies with flowers, shops. The kitchen
therefore complies with the ancient Roman tradition, with typical dishes such as rigatoni alla pagliata, cheese and pepper, amatriciana, tripe and oxtail.
Cacio e Pepe a Trastevere
Vicolo del cinque, 15 - Roma
Typical Roman inn in the heart of Trastevere, where, in addition to technical innovations and taste acquired after years of restoration across Europe, you can find the typical dishes of Roman cuisine: tonnarelli cheese and pepper, carbonara, amatriciana or dishes such as oxtail , chicken with peppers, tripe.
Open every day.
Website: http://www.osteriacacioepepe.it
Pizzeria Roma Sparita
Piazza S.Cecilia, 24 - Tel.: +39.06.5800757
Charming and friendly, if magna good to lick your fingers. Starters: artichokes, cod fillets', then, fettuccine with artichokes, or gnocchi with clams and finally, beef with artichokes and apple pie.
Average price per person 21-25 €
Website: http://www.romasparita.com/
La Gattabuia
Via del Porto, 1 - Tel.: +39.06.584813
The restaurant is located in the heart of the old Trastevere, between Via del Porto and Piazza dei Mercanti in a beautiful seventeenth-century tavern and is divided into three rooms, all with vaults, arches and red bricks. The cuisine ranges from tasty appetizers, fried vegetables, grilled vegetables to go with the typical Roman cuisine, from carbonara to high demand gricia.
Website: http://www.lagattabuia.it/
Naumachia
Via Celimontana, 7 - Tel.: +39.06.7002764
The restaurant Naumachia expertly blends the flavors of traditional Roman and Tuscan, creating a kitchen that sings to dining experiences told through different specialties. Starting from the Danish meat on the grill until the mozzarella di Bufala DOP, pasta and bread "made ??strictly in-house" to the famous "basket of Naumachie" (waffle cookie with whipped cream, strawberries and chocolate).
Average price per person 18-27 €
Website: http://www.naumachiaroma.com/
Isidoro al Colosseo
Via di S. Giovanni in Laterano, 59a - Tel.: 39.06.7008266
The Hostaria Isidoro is a short walk from the Colosseum in a former convent in 1600 where exposed brick and ceilings are coffered breathe the air of history and ancient and is one of the most famous restaurants in Rome for years. Known for over 50 years for its small portions of pasta plant based, it also offers a wide selection of grilled specialties and homemade desserts.
Average price per person 20-30 €
Website: http://www.hostariaisidoro.com/
Hostaria I Clementini
Via di San Giovanni in Laterano, 106 - Tel.: 39.06.45426395
The restaurant "The Clementine" is the evolution, revised and corrected by an old inn romana.Troverete the typical dishes of Roman cuisine such as carbonara, spaghetti with cheese and pepper etc.. as well as reinterpretations of the taglionini mussels and pecorino, original and tasty. Among the latter, good grilled meat and fish, tuna steak, the legendary chops of lamb and the "rabbit fruit". The desserts are homemade and include all the cioccoclementino.
Average price per person 35 €
Website: http://www.iclementini.it/
Trattoria pizzeria Luzzi
Via di San Giovanni in Laterano, 88 - Tel.: +39.06.7096332
Environment homemade, Spartan and nice where you can 'eat, at affordable prices, good pizza romana but also the typical dishes of Roman cuisine, from spaghetti alla amatriciana the oxtail.
Average price: 18-20 €
Cul de Sac
Piazza Pasquino, 73 - Tel.: +39.06.68801094
This historic wine in 1977 gave rise to the phenomenon of wine bars in Rome. Cul de Sac offers a selection of 1,500 labels, as well as traditional Roman dishes (tripe, oxtail, rolls, lasagna) and international dishes. Open after the theater, offers monthly wine tastings free telephone reservations.
Average price per person 18-28 €
Website: http://www.enotecaculdesacroma.it/
Zagara
Via Paola, 26 - Tel.: +39.06.6832075
Zagara is a delicious and welcoming restaurant located just steps from Castel Sant'Angelo and Piazza Navona. The culinary offer has its roots in Southern cuisine and Bourbon and particularly in Campania, Sicily and Calabria. Among the starters there 'the delicious anchovy pie stuffed with escarole while among the first remind the carbonara smoked swordfish.
Average price per person 27-42 €
Baires
Corso Rinascimento, 1 - Tel.: +39.06.6861293
Meat of the best traditions of Argentina: tenderloin, sirloin, roasted, entrecote, mostly grilled. But also many appetizers to try: fried cassava, dumplings of dough stuffed, grilled or boiled corn on the cob and pasta dishes in a mix of traditional Italian and South American, bean soups and whole wheat. A jump in Argentina ... the center of Rome!
Average price per person 25-38 €
Website: http://www.baires.it/
La Montecarlo
Vicolo Savelli, 13 - Tel.: +39.06.6861877
One of the most sought after places to taste the real Roman pizza, a few steps from Piazza Navona. The pizza is thin and crispy, with a dough that retains the true traditions of Roman pizza, served in large plates of aluminum
Website: https://www.lamontecarlo.it/
Cleto
Via del Buon Consiglio, 17 (angolo Via del Cardello) - Tel.: +39.06.69759295
The restaurant Cleto is located in a picturesque and quiet corner of Rome, a few steps from the Roman Forum and the Colosseum.
The restaurant welcomes guests in the summer, in a sheltered garden, where the owner engages willingly to the guitar in the classical Roman starlings.
Open every day
Website: http://www.ristorantecleto.it/
Royal Art Cafe
Piazza Del Colosseo, 1 - Tel.: +39.06.77590270
The restaurant Royal Art Cafe is located just in front of the Colosseum has a wide and terrzza which offers a breathtaking view of the amphitheater Flavio and Fori Imperiali. The cuisine is based on menus (fixed or paper) of meat and fish, with particular attention to the typical dishes of the Roman tradition.
It's open daily for lunch and dinner.
Website: https://www.facebook.com/royal.artcafe.roma/
Il Maratoneta
Via dei Sardi, 20 - Tel: +39.06.4450287
Il Maratoneta is a historic pizzeria is located in Rome's San Lorenzo district, popularly priced, quiet and unpretentious. In addition to pizza, you can make the croutons, the rice balls but also the classic fried cod. The local is very basic and offers a dinner prices very economic.
With a maximum of € 12 eat appetizer, pizza and beer to digest.'
Alexander Platz
Via Ostia, 9 - Tel: +39.0639742171
Local cult for live jazz, Alexander Platz International is one of the must of the Eternal City. The music never fails and the program is really high level. In the menu you can find stuffed peppers of the Langhe, tasting of French cheeses with grape mustard, spaghetti House Cupiello, pumpkin risotto with gorgonzola and shrimp, swordfish Ischia, beef fillet with green pepper. '
Website: http://www.alexanderplatz.it/
La Cantina Tirolese
Via G. Vitelleschi, 23 - Tel: +39.06.68135297
The Cantina Tirolese tradition you see: and hear, in the unique flavor of its dishes. The menu has not forgotten dishes like pork knuckle and Knodel. Among the many specialties, the 'Wolverine' - a grilled meats to be cooked at the table and serve with lots of different dips - the fondue bourguignon, the inevitable sausage. Among the desserts stand out strudel, sacher cake and yogurt and blueberries.'
Website: https://www.cantinatiroleseroma.com/
Il Podista
Via Tiburtina, 224 - Tel.:+39.06.44700967
It's one of the best pizzerias in Rome, Location, for quality and price. The pizza, thin and crispy are excellent, as well as the suppli, fillets of cod and altir fried, which is always good, the waiters and the owner are friendly and helpful. '
0,75
Via dei Cerchi, 65 - Tel.: +39.06.6875706
Embedded in the local Cornish of the Circus Maximus, offers a differentiated between a quick meal, a beer with friends, wine and a delicious dinner with two kitchen open until 2:00 am'
Website: http://www.075roma.com