Re Leone
Via Valleranello, 89 - Roma
Map
It offers families an equipped playground, inflatables, minigolf, workshops and entertainment, 2-storey playground, mini golf, slides, table tennis and lots of greenery with orchards and olive groves as well as 2 indoor play areas for both children up to 2 years and for children over 2 years old. The restaurant offers house specialties: Italian meat burgers, grilled cuts, organic pizza, organic pasta, vegan menus & menus for celiacs are also available.

Circè Fun & Food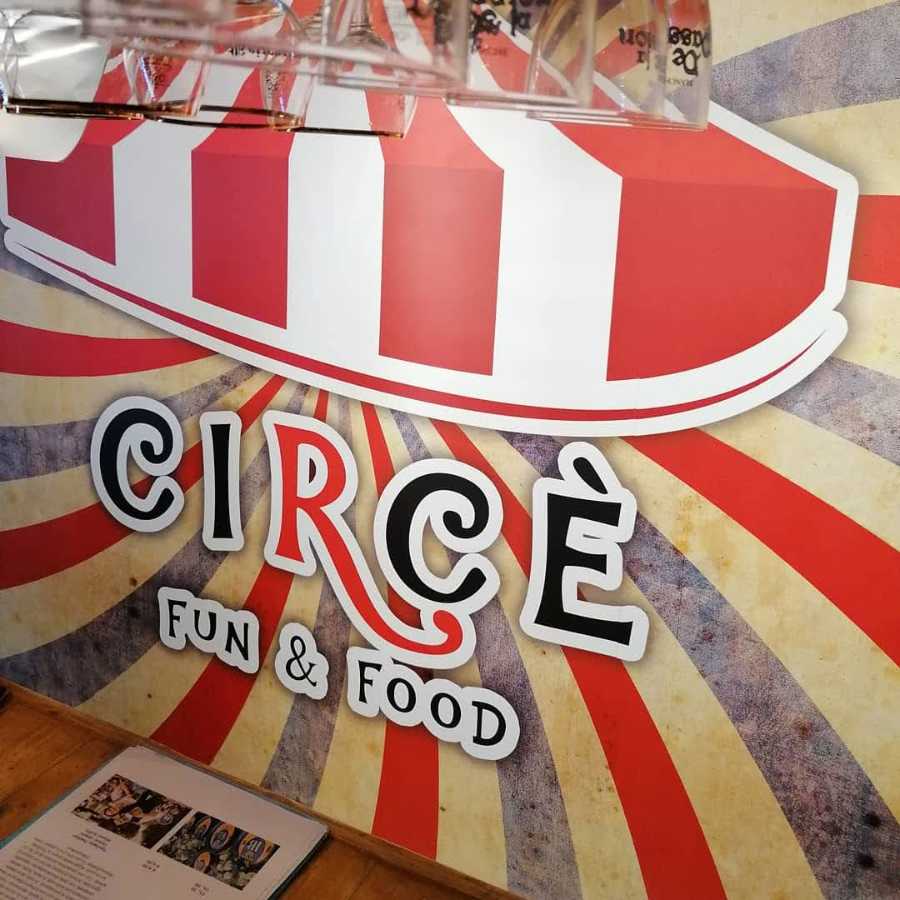 Via Nomentana, 1218 - Roma Map
Perfect restaurant for children but also for parents.
Adults can relax while enjoying the specialties of the kitchen, wood-fired pizza and hamburgers prepared with selected meats, the little ones can have fun without getting bored at the table in the playground area with playful activities, slides, inflatables and in the summer with water games.

Website: https://www.circeroma.it/
Straforno
Via del Casale di S. Basilio, 19 - Roma
Map
A comfortable, large room, has all the credentials to make you spend the evening you want.It has a play area of ??about 80 square meters dedicated to families with children where there are playgrounds, climbing walls, TV, various games and tables for to draw. At the weekend there are also the entertainers.

Website: https://straforno.com
Mucca Pazza
Via Luigi Zambarelli, 35 - Roma Map
A restaurant where it gives top priority to the family and the utmost attention to children"s entertainment.During lunch or dinner, parents can eat in peace, while their children can play in dedicated areas and with the constant presence of our entertainers. "BIMBOLANDIA area is fully equipped and welcomes various activities and the areas dedicated to children are visible from the tables of the restaurant.

Website: https://ristorantemuccapazza.it
Manforte
Via Giovanni Zanardini, 39 - Roma Map
An informal and very spacious restaurant with menus dedicated to children. A large outdoor area where you can enjoy large wood-fired pizzas. There is also a play area with slides and colored blackboards and many other equipment to entertain children.

Website: https://www.manforte.eu
I meloncini
Viale di Tor di Quinto, 55 Map
The restaurant has a large play area with slides, wooden houses, swings and trampolines. In summer the structure has a beautiful outdoor room from where you can see the children and the thing is very appreciated by parents.

Website: https://www.meloncini.com/
Ciclostazione Frattini
Via P. Frattini 136/138 - Roma Map
Restaurant that caters to an audience of all ages, with a large open space with veranda and garden. For children you will find two large play areas (indoor and outdoor) where they can eat and have fun in peace supervised by a specialized staff.

Website: http://www.ciclostazionefrattini.it
Arcade and Food
Via Nomentana, 1111 - Roma Map
A truly unique experience, a large restaurant full of video games, electronic games and pinball machines for the fun of the whole family and a sea of really amazing burgers to try

Website: https://www.arcadeandfood.it
Sa Tanca
Via Nomentana, 1111 - Roma Map
Sardinian management, it has been active for many years in the Panorama of Capitoline catering and was one of the first places to equip itself with internal animation. The property now boasts an outdoor and indoor play area, the pride of the restaurant. The cuisine, mainly fish, also offers meat menus and pizza menus.

Website: https://www.satanca.it
Vivi Bistrot
Via Vitellia 102 - Roma Map
In the heart of Villa Pamphili, a magical place, with a rural touch, but certainly ideal for spending a pleasant day with the family, from breakfast to brunch, from an aperitif to dinner. The stress of the city leaves room for a while. to relaxation, freedom, fun. And it doesn"t even seem to be in a metropolis like Rome.

Website: https://www.vivibistrot.com/
Rosti
Via Bartolomeo D'Alviano 65 - Roma Map
It is a place designed for everyone with a wide, simple and genuine food and wine proposal. Equipped with an outdoor garden where children can play while their parents relax.

Website: http://www.rostialpigneto.it/