Antico Caffe Greco
Via Condotti, 86 - Tel. +39066791700
The Greek and Caffe 'the most' old coffee in Rome, in Italy, only the Florian in Venice is oldest.
The restaurant's name comes from the fact that Nicola Maddalena, the coffee which he founded in 1760, was greek.
The cafeteria is also famous for the important people who have attended over the years as Massimo D'Azeglio,   Buffal Bill, Giacomo Casanova, Stendhal, that passage 'the threshold from the Caffe' Greek in order to seek his double.
Website: http://www.caffegreco.it
Tazza d'Oro La casa del caffe
Via degli Orfani, 84 (Pantheon) - Tel. +39066798131
It is a historical place, and it's attended without distinction to all sections of society, by politicians as the most important actor of success, the simple craftsman, the woman manager at home; dall'ecclesiastico students, approaching the counter is hear speeches in all languages ??at the same time is easy to meet some friends. Try the well known iced coffee 'with cream.
Website: http://www.tazzadorocoffeeshop.com
Sant'Eustachio Il Caffè
Piazza Sant'Eustachio, 82 - Tel. +390668802048
One of the Cafe most good of Rome and known all over the world, Caffe' Sant'Eustacchio is an ancient wood roasting born in the Thirties (1938), which is located in the heart of of Rome, a stone's throw from Piazza Navona and the Pantheon. Must try the delicious Grancaffe'
Website: http://www.santeustachioilcaffe.it
Giolitti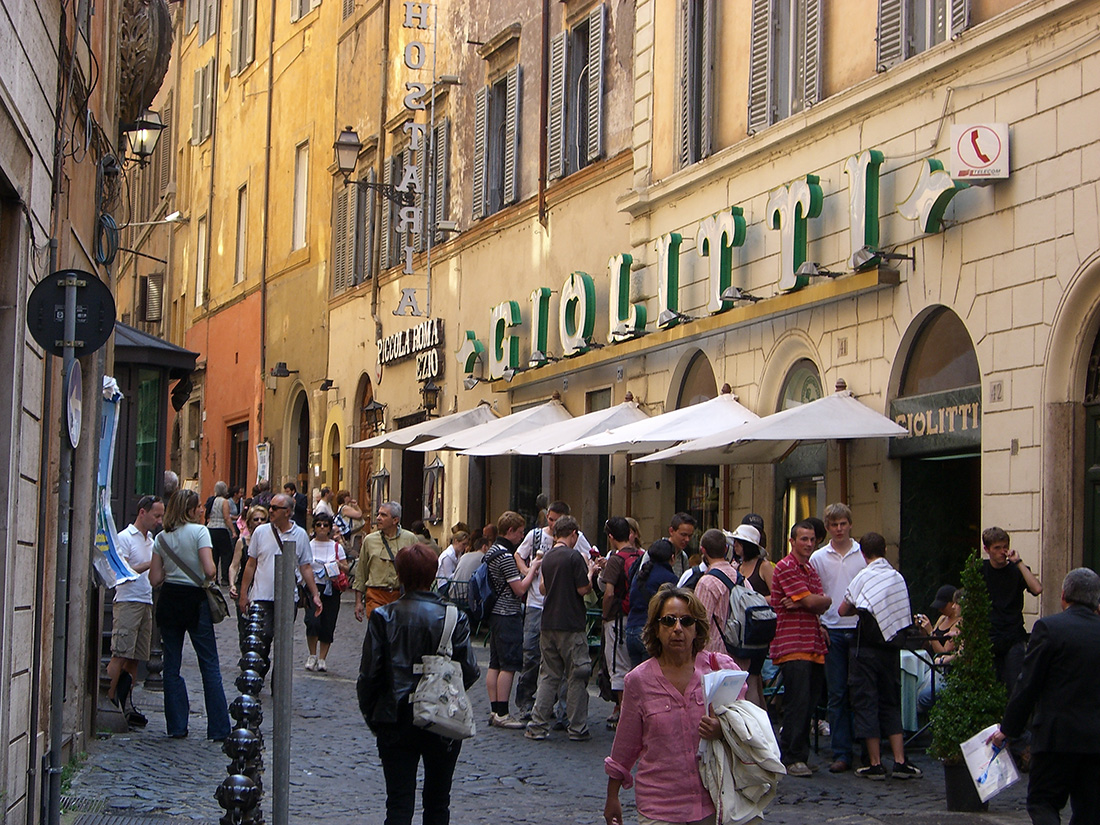 Via degli Uffici del Vicario, 40 Tel. +39066991243
The most famous ice cream parlor in the historic center of Rome, a few steps from Parliament. Great pastries and, above all, the ice cream with a wide range of tastes.
Website: http://www.giolitti.it/
Navona notte
Via del Teatro Pace 44 - Tel. 066869278
Great little restaurant near Piazza Navona, in a rustic no element gorgeous.
The service is fast and effective while the pizzas are very tasty. Try the fabulous coupled: pizza or spaghetti, mussels and focaccia
Fluid
Via del Governo Vecchio, 46/47 (Campo de' fiori) - Tel. +39066832361
A few steps from Campo dei Fiori you can immerse yourself in a sensory experience for a drink with good music of DJ sets. Each drink and is prepared according to tradition, with some goodies such as Spritz aperitif of Venice.
Cul de Sac
Piazza Pasquino, 73 - Tel.: +39.06.68801094
This historic wine in 1977 gave rise to the phenomenon of wine bars in Rome. Cul de Sac offers a selection of 1,500 labels, as well as traditional Roman dishes (tripe, oxtail, rolls, lasagna) and international dishes. Open after the theater, offers monthly wine tastings free telephone reservations.
Average price per person 18-28 €
Website: http://www.enotecaculdesacroma.it/
Zagara
Via Paola, 26 - Tel.: +39.06.6832075
Zagara is a delicious and welcoming restaurant located just steps from Castel Sant'Angelo and Piazza Navona. The culinary offer has its roots in Southern cuisine and Bourbon and particularly in Campania, Sicily and Calabria. Among the starters there 'the delicious anchovy pie stuffed with escarole while among the first remind the carbonara smoked swordfish.
Average price per person 27-42 €
Baires
Corso Rinascimento, 1 - Tel.: +39.06.6861293
Meat of the best traditions of Argentina: tenderloin, sirloin, roasted, entrecote, mostly grilled. But also many appetizers to try: fried cassava, dumplings of dough stuffed, grilled or boiled corn on the cob and pasta dishes in a mix of traditional Italian and South American, bean soups and whole wheat. A jump in Argentina ... the center of Rome!
Average price per person 25-38 €
Website: http://www.baires.it/
La Montecarlo
Vicolo Savelli, 13 - Tel.: +39.06.6861877
One of the most sought after places to taste the real Roman pizza, a few steps from Piazza Navona. The pizza is thin and crispy, with a dough that retains the true traditions of Roman pizza, served in large plates of aluminum
Website: https://www.lamontecarlo.it/